Contests
THE CHARLATAN WANTS TO SEND YOU AND A FRIEND TO MOTHER MOTHER AT THE NAC THIS FRIDAY!
There are 2 great ways you can win a pair of tickets to the Mother Mother show Friday March 3rd at the NAC!
A) SOCIAL MEDIA (2 Pairs – winners TBA March 3 at Noon):
LIKE US ON FACEBOOK https://www.facebook.com/CharlatanLive/ COMMENT & TAG 1 FRIEND!
OR
FOLLOW US ON INSTAGRAM https://www.instagram.com/charlatanlive/ COMMENT & TAG 3 FRIENDS!
B) RADIO (tune in to win instantly):
TUNE INTO OUR RADIO SHOW ON CKCU 93.1 FM THIS THURSDAY AT 12:00 PM to 12:30 PM http://cod.ckcufm.com/programs/190/info.html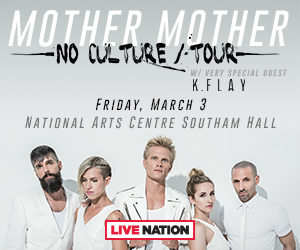 Contest expires MARCH 3RD, 2017
Save
Save
Save
Save