Catherine Traer reflects on her final Capital Hoops game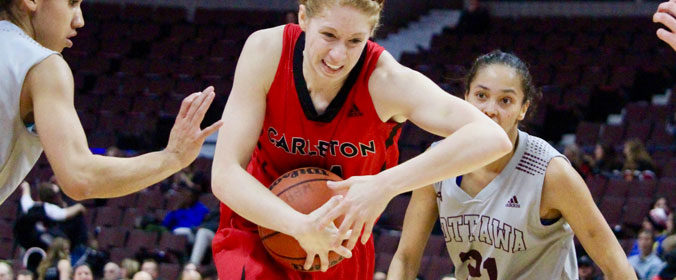 On the morning before the annual Capital Hoops Classic, Catherine Traer could be seen arriving at the Raven's Nest for her team's scheduled morning shootaround. Only this time, she was filled with more emotion than usual.
For Traer, this year's game was the last time she would set foot on the court of the Canadian Tire Centre as a member of Carleton's women's basketball program.
"It's kind of bittersweet," Traer said. "You dream of playing at a place like this when you're a little girl. Personally, I'm from Ottawa. I came here and I grew up watching these girls play and I really looked up to them."
On Feb. 2,  the Carleton Ravens women's basketball team won their third Capital Hoops Classic in as many years, with a score of 57-41 over the University of Ottawa (U of O) Gee-Gees.
The final score comes with a silver lining for Traer, as she earned her second Capital Hoops title since leaving the Gee-Gees to become a member of the Ravens in 2016. The win also ensures Traer will finish her U Sports career with an undefeated Capital Hoops record against her former team.
"During the game, you don't think about it too much," Traer said. "I kind of just realized at the end of the game. I was like, 'oh wow, it's over. I'm never going to play here again.' "
Born and raised in Chelsea, Que., Traer had all intentions of staying in the Ottawa area after high school, and decided to accept an offer to play basketball for the Gee-Gees in 2012. After spending four years as a member of the U of O's backcourt, Traer decided to make the switch to Carleton's basketball program in 2016 as a graduate player to pursue her master's in political science.
Traer said the support from many of her professors at Carleton has been amazing over the past two years in helping to balance her life between school and basketball. 
"The support has been awesome, my professors support me playing basketball. That's just unheard of really at U of O because it's just such a big school that athletics just maybe aren't prioritized," she said.
"I picked a team that was peaking at the right time," Traer said. "Some of the girls that have been here have shed blood, sweat, and tears for over three, four, five years even. And man, they haven't had it easy."
No other person has been as crucial to Traer's development as a player than her head coach, Taffe Charles. Their relationship as player and coach can be traced all the way back to Traer's senior year of high school.
As a local player, Charles took notice of Traer's talents in the Ottawa area and what she could bring to a Ravens team on the rise. However, Traer had made it clear she was sold on the U of O from the start and recieved less attention from Carleton's recruiting team as a result.
Looking back at her decision, Traer said she has been impressed by Charles' efforts in making her a tougher player on the basketball court. She added that she has been able to see firsthand why he is credited by many former players as one of the better developing and tactical coaches in Canadian women's basketball.
"You look at some of the players that have been here for a few years, they weren't very big names coming out of high school and he's just turned their game around," Traer said.
"I tried out for the national team three times before finally making it in my fourth year last year . . . I think Taffe had a huge role to play in that," she said. "Without him, I don't think I would have made it."
Along with Traer, this year's squad will see three other fifth-year players leaving the team, with guards Jenjen Abella and Stephanie Carr, and center Heather Lindsay among those names. While Lindsay admits that it was a weird feeling to know she had played her last Capital Hoops, it only goes to show that games like these don't come around as often as players think.
"It's a special place," Charles said. "[The players] get to showcase for our team. When you're done, you're going to realize that people actually came to pay and watch you play. And that's always awesome."
As of now, Traer said she hasn't decided on her future plans yet. Like most athletes, her main goal is to continue pursuing her basketball career after she leaves Carleton but admits that "it's also very hard as a female athlete to play" professionally.
"I hope. I'm praying that I can still play," Traer said. "I love the game, and as long as my body supports it, I'll keep playing."
---
Photo by Aaron Hemens