The Furry Solution: how fostering could improve your mental health

As semester one wraps up, stress levels rise amongst many Carleton University students. Interactions with a furry friend may be the answer to reducing some of this stress. Several studies in Canada have shown the benefits of animal therapy for students in particular.
Shannon Noonan is a faculty member at Carleton University who works with the Centre for Initiatives in Education, doing pet therapy as a retention initiative for students in the Enriched Support Program. Her partner is her five year-old Great Dane-Pointer, Blue.  
"There have been studies showing that coming in contact with an animal increases your oxytocin levels, which is your stress fighting hormone," Noonan said. "It can also decrease your cortisol levels. Cortisol is your stress hormone that makes you stressed out and unable to deal with stress."
She added that studies in B.C. have shown that regular contact with an animal can help in  reducing homesickness. She explained that her program is a good way for students to put these feelings at ease.
"It doesn't have set times or goals for individuals, and isn't a formal therapy process. But, it's a viable way to access services for mental health," Noonan said.
An alternative to seeing an animal once or twice a week could be giving an animal a second chance, and opening up your home for a foster animal from Ottawa's local shelter.
After an overwhelming day at school, Jessie Vanloon, a second-year social work student, can snuggle up with Leo as a stress reliever. Vanloon and her roommates recently welcomed Leo the cat into their home, planning to foster him until he is adopted.
"It's awesome to have a cat in the house. I adore cats but can't adopt one right now, so I thought fostering would be a good alternative," Vanloon said.
Vanloon explained that having a pet at home has made her "less stressed" and that having Leo has affected her mental health positively.
"I think animals really benefit mental health, [and] Leo has been great for mine," she said.
The Ottawa Humane Society (OHS) Foster Program
Natalie Pona, communications manager at the Ottawa Humane Society (OHS), explained that the shelter is always looking for foster volunteers. According to Pona, the main goal of their foster program is to get the animals ready for their "forever homes."
The process to foster with the OHS program consists of filling out an application available online, and attending a training session on how to foster animals.
"I would encourage people who are interested in our foster program to go to our website and they can see the application form and learn a little bit more about the program as well as our next orientation dates." Pona said
According to Vanloon, the process of joining the OHS program was relatively easy, and she was matched with her perfect feline companion in no time.
"We had to submit a written application of our past cat experiences and general information. Then once that was approved a woman came to our house to meet us and make sure our house was cat friendly. Then we got a cat," Vanloon said.
The program is designed to give animals that are too young for adoption or might have health or behavioural challenges the opportunity to recover and get ready for adoption. During the program's orientation, fosters are taught a variety of skills to help shelter animals overcome these obstacles.
"We have trained foster volunteers—a foster placement can last a couple of weeks or even last several months, depending on the need of the animal," Pona said.
Pona explained that throughout the year the OHS foster program has hundreds of volunteers assisting on a regular basis, ensuring the program can accommodate the thousands of animals in care.  
Why are foster programs needed?
According to a 2015 report by the Canadian Federation of Humane Societies (CFHS), more than 82,000 cats, and 35,000 dogs were taken in by animal shelters throughout Canada, a decline from previous years which have seen up to several hundred thousands of stray animals.
Foster programs are becoming more and more popular, according to the CFHS the transfer of stray animals from shelters to local rescues and foster programs has increased since 2015. The report highlights how the transfer of stray shelter animals into these partner organizations is meant to increase their likelihood of adoption, and prevent the euthanasia of healthy animals.
In 2015 alone, 15,341 cats and 2,820 dogs were euthanized by Canadian Humane Societies and the SPCA. Of this number, 759 healthy cats and 39 healthy dogs were euthanized.
Compared to previous years, 2015 showed a decrease in healthy cats and dogs euthanized in shelters. Statistically, smaller rescues and foster programs have been shown to play a huge part in reducing this number, which is why the OHS said they are so thankful for their local fosters.
"We have several hundred volunteers who assist us on a regular basis throughout the year and several thousand animals as well," she said. "We have a wonderful community who's always willing to help."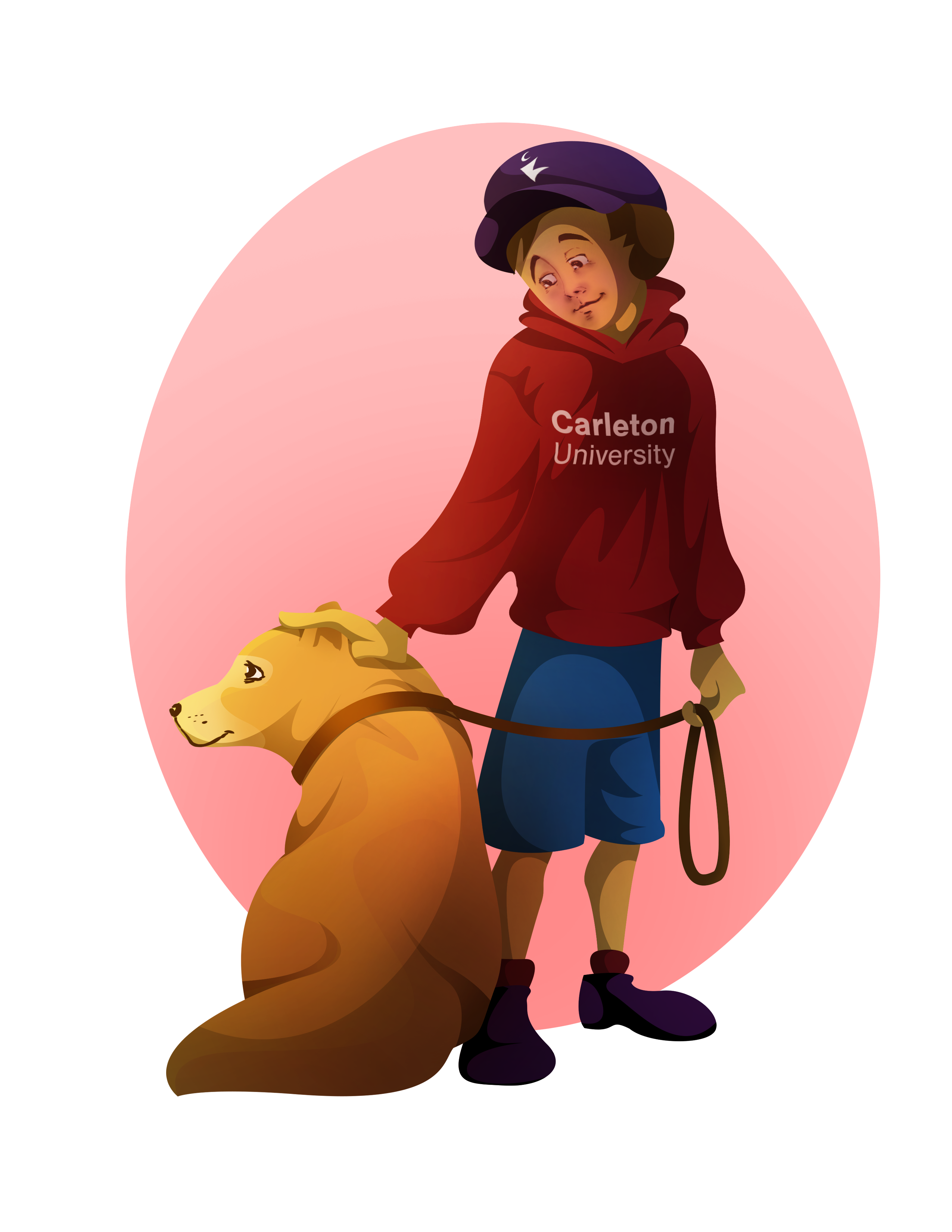 Why become a student foster?
Fostering doesn't always require a long-term commitment, volunteering as a student could be a good solution for someone who misses their animal, is experiencing homesickness, or mental illness.  Pona explained.
To avoid any stressful encounters with a foster animal, the program makes it a priority to pair an owner with the right animal that does not exceed their care taking or training capabilities.
"They may work long hours, so we will recommend a type of dog with a temperament that is not going to require the type of long walks, say maybe another dog might. We go to great lengths to ensure that it's a good match on both sides to ensure that it's a permanent match," Pona said.
Vanloon said that Leo was the best match for her, and her lifestyle, with no additional training needed for a smooth transition into her household.
"He's a healthy two-year-old cat, so we haven't had to do any extra work," Vanloon said.
The program also covers all the finances involved in fostering. For this reason, Vanloon said she encourages other students to look into the program.  
"If anyone can foster a cat they should go for it. If they don't want to pay for anything, the Ottawa Humane Society takes care of all costs, even food and litter," Vanloon said.
The OHS foster program is easily accessible, and due to the financial coverage, it can be practical for students who are seeking some extra love or comfort at home, without the dollar commitment.
"It's a great way to give back to the community. Even if the animals can't say thank you, it's like giving an animal a second chance. It's an amazing feeling for volunteers and the impact it's actually had on their lives," Pona said.
A student becoming a foster volunteer can also be a good way to become more self-sufficient. Taking on another responsibility can actually create a better balance at home, and help students develop better time management, according to Noonan.
"There's something called the animal-human bond. There's a pyramid, there's people you need to be in contact with, the environment, and animals. And all of those things combined give you a rounded picture of health and well being," Noonan said.
Vanloon said her experience so far has been effective in creating better balance in her life. She explained that although she dedicates time to caring for Leo, she has not neglected her studies.
"I do spend a lot of time with Leo when I should probably be doing work, but I wouldn't say it has made my academics worse. Just that I'm more ready to work after taking a break with Leo," Vanloon said.
However, Noonan explained that some off-campus students might not spend enough time at home to foster an animal.
"It can be quite an undertaking, and if you're just looking for a little bit of love and support from an animal you can come and see a therapy dog like Blue," Noonan said.  
For students looking to take a study break and shake off some stress, Blue has office hours every week in 1520 Dunton Tower on Wednesday and Thursday afternoons.
Uncle Steven, Carleton's Library Dog, is  also available for some extra love pats on the main floor of the MacOdrum Library on Thursday afternoons from 2 p.m. to 3:30 p.m..
As for students who are not particularly "animal lovers" Carleton has many other programs and alternative services for the reduction of stress. Along with the Therapy Dog program on campus, Carleton has recently updated its website, and added other resources for those seeking help with their mental health.
If you just need a break from the hustle and bustle, the Procrastination Buster Study Room is a good place to either take a break from your work, or hunker down for that well-needed study session. The group meets Tuesdays and Thursdays from 5:30 p.m. to 9 p.m. in Room 431 Tory Building.
But, if you're just looking to chill out for a quick break between classes, or if midterms are getting a little "ruff," Blue is certainly the fuzziest option to help you de-stress on campus.
---
Graphics by Manoj Thayalan