Panda Game: Ravens look to win fourth in a row

This weekend will mark the 49th Panda Game, the annual football game where the Carleton Ravens take on the University of Ottawa (U of O) Gee-Gees to see which school will get to take home the Pedro the Panda trophy.
Carleton will be looking for its fourth consecutive win since Carleton's football program was revived in 2013, the same year that the Panda Game returned.
Last year's game was played in front of a record setting, sold-out crowd of 23,329 people and this year's game looks to be on track to match that number.
The 2016 Panda Game set the record for highest attendance of any U Sports regular season game, beating out a game played by the Université Laval in 2005 which was attended by 19,200 fans.
Ravens quarterback Michael Arruda said he won't let the hype surrounding the game get into his head.
"I don't want to get my mind caught up in how many people are going to be there, or that the game is at TD Place. The first drive will be special, but after that it is just another game," Arruda said, who will be participating in his first Panda Game.
Arruda comes into the game with an interesting perspective. Formerly comitted to U of O, Arruda spent some time with the team before leaving and coming to Carleton.
"There's going to be a big target on my back, it's going to be a competitive and I think the defence is going to come after me, but I like that pressure and I can't wait," he said.
Arruda has had an up and down start to the season, but has since become a top quarterback in Ontario University Athletics (OUA). He is now third in the OUA for passing yards per game with 273.5 and tied for fourth in touchdowns with seven total.
The Ravens sit in a tough spot, currently in seventh place in OUA with a disappointing record of 1-3 putting them in danger of missing the playoffs. This game is a must-win for the Ravens if the team hopes to make it to the post-season and improve on last years winning season.
"The pressure is that we have to win, we put ourselves behind the eight ball, we need to win to get into playoffs," said head coach Steve Sumarah, who will be coaching in his fourth Panda Game.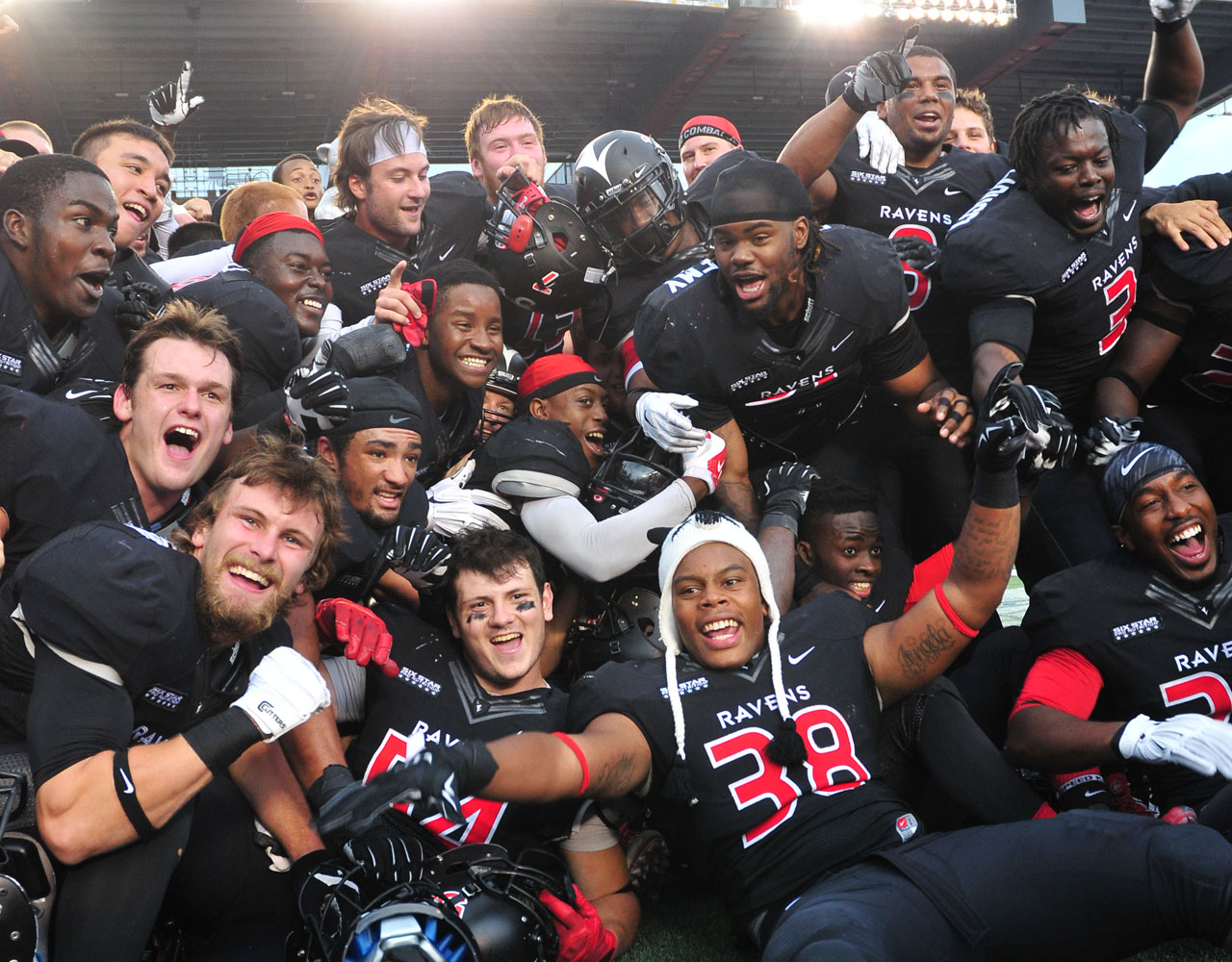 Kyle Van Wynsberghe is a Carleton receiver who will be playing in his fourth Panda Game this upcoming Saturday.
"The pressure is that we are on a three game losing streak . . . we want to keep the [Panda Game] streak alive, but we also need to win this game if we want to make playoffs," Van Wynsberghe said.
The Gee-Gees are in a much more comfortable spot in the standings, sitting in fourth place in the OUA with a strong record of 4-1.
The Gee-Gees will be a tough matchup for Carleton due to Carleton's early season defensive troubles. The Gee-Gees play a strong defensive game that, if done effectively, could shut down the high-scoring Carleton offence.
This will put a lot of pressure on the Ravens defence that has struggled early on in the season. Carleton's defence this year has allowed 30.8 points per game compared to the U of O's defence, which has only allowed for 17.8.
"It is going to be tough," Sumarah said. "Ottawa is a seasoned team, and I think it is going to be a low-scoring game."
However, if any teams offence is able to get by the U of O defence, it will be Carleton's game. Using their varied offence of running and passing the Ravens may be able to stump the Gee-Gee's.
This year, the Carleton offence has been able to put up 27.3 points per game and an impressive 483.8 yards per game, good enough for third in the OUA.
In contrast, the U of O has been struggling with offensive issues throughout the year after losing star quarterback Derek Wendel, who graduated after last season. The Gee-Gees offence has failed to score a touchdown in three of four games this year.
This years Panda Game marks an important landmark for the Carleton football program. Four years after the program came back, this will be the first year without many of the veteran players that made up the Carleton team.
Receiver Nate Behar (now with the Edmonton Eskimos) is one of those players, a Panda Game hero who caught a last minute Hail-Mary pass three years ago to win the game. Behar was also able to put up massive yardage gains in his final year with the team, with 98.5 yards per game, second in the OUA.
The Ravens will also be missing Tunde Adeleke, who shone at last year's Panda Game with a massive 120-yard punt return. After being selected 25th overall in the Canadian Football League draft earlier this year, Adeleke is now playing with the Calgary Stampeders
These players have entered the mythos of the Panda Game and this year the team will be looking to their current roster to step up in the big moments that the game sets up.
"You just have to say it is the next man up, we need to find the next guy that is going to make a play for us," Sumarah said.
The Panda Game kicks off at 1 p.m. on Sept. 30 at TD Place.
Before the game there will be a ceremony held in remembrance of Gee-Gees defensive lineman Loic Kayembe, who died in his sleep on Sept. 24. Kayembe, 24, was a social sciences student from Montreal who had been with the Gee-Gee's since 2015
---
Photo by Kyle Fazackerley