Flag-raising marks beginning of Pride Week in the capital

A large crowd of people gather outside Ottawa City Hall on Aug. 21 to watch as Grand Marshal Candy Palmater, Mayor Jim Watson and other city and national government leaders raised the Pride flag to mark the start of Pride Week in the nation's capital.
At the event, Watson address the concerns of recent issues with LGBTQ+ members in today's society.
"You see some of the nastiness that is taking place around the world, whether it's in Orlando, London or the United States," Watson said. "We still need to celebrate and advocate for the LGBT community in the nation's capital."
Member of Parliament Catherine McKenna also spoke about the importance of continuing the pride celebration within Ottawa.
"We have not reached the end of fighting for LGBTQ+ rights, we seem to be going backwards," she said. 
McKenna stated the first pride rally marched on Parliament Hill in 1971, a tradition that has continued since then. 
"People have been fighting for a long time and I want to thank all of you," she said. "It is really important that Canada steps up and that we say we protect all human rights including LGBTQ+ rights."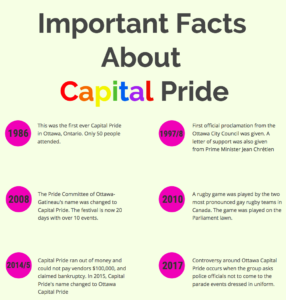 The theme for this year's pride is "Just Be," emphasizing the individual's experience, according to Watson. Both the community and first responders were invited to attend the flag-raising celebration, which included music and a barbeque.  
While several officers will be marching in the Capital Pride parade, earlier this summer Capital Pride organizers asked Ottawa Police to not wear their uniforms or bring police cruisers to the parade.
While police chief Charles Bordeleau initially said he would wear his full uniform in the parade, he later backed down and said he would wear a golf shirt with the Ottawa Police logo on it instead, according to the CBC.
"I see the reasons behind why they are asking us to not wear our uniform at the parade and I acknowledge and respect it," said Dave Zackrais, staff sergeant in charge of the diversity unit at Ottawa Police Services.
While it's not unusual for officers to leave their uniforms at home, Zackrais said it was still a bit of a shock.
"The uniform is a part of our identity, we have marched in uniform in previous years for the last 25 years. We have done a lot of great work with our LGBT community," Zackrais said. "We were able to strengthen the relationship."
"All they want [to do is] to create a safe space, [and] some folks do feel intimated by the uniform," he said.  
Zackrais added that officers do often engage with the community while not wearing their uniforms.
"For example, when we go to mosques, we take our shoes off, when we go to the gurdwara, we wear a headdress," he said. "When we deal with youth in our community, we tend to engage with them in our non-uniform capacity."
This year, Toronto's police officers marched in the parade without their uniforms after being barred by Pride Toronto, who agreed to the demands of activist group Black Lives Matter Toronto, which halted last year's parade.
According to CBC, Calgary's police are also marching without their uniforms on Sept. 3 as requested by Calgary Pride.
Zackrais said it's his section's role to ensure that they have good relationships with communities that are traditionally marginalized.
"On a personal level, I take great pride in [our] relationships with racialized LGBTQ [people], our Indigenous and faith-based communities that are often victims of hate incidents," he said. "There is always room for improvement, there are always things we can do better and we're open to it."
The flag-raising marks the beginning of a full week's worth of events, including a pageant, a vigil, and a 5 km run, before culminating with a parade on Aug. 27.
Photos by Meagan Casalino