Street art and graffiti: the legality of it all

You'll find street art and graffiti nearly everywhere: the walls of your school, the alleys of the city, under bridges, on mailboxes, and more. From Berlin to Toronto, artists are painting up the streets with what are often beautiful pieces of work. Banksy, a world-renowned graffiti artist, creates street art that sells for millions of dollars. So why then, is graffiti still illegal?

Why control graffiti art?
According to the City of Ottawa website, graffiti is known to increase crime rates and can reduce business revenue, property value, and affect the aesthetic appeal of its surrounding areas. Graffiti can also affect the sense of safety and security for residents and visitors.
Hate graffiti is also a pressing issue for the city and the communities within it. In November 2016, Ottawa was the scene of several instances of hate graffiti featuring anti-Semitic messages.
What are the current laws surrounding street art?
If caught painting without consent, artists can be fined up to $615 under the City of Ottawa's Graffiti Management bylaw.
In an email, a media relations representative from the City of Ottawa said those caught vandalizing property can also be subjected to community service hours or criminal charges.
"A conviction could result in a criminal record that can impact a young person's future, including employment opportunities or travelling outside the country," the representative said.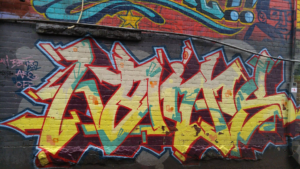 However, property mischief is a hybrid crime, so perpetrators can also be charged with an indictable offence. If it is pursued as such, and damages exceed $5,000, violators could face up to 10 years in jail. If damages do not exceed $5,000, artists can still face up to two years in jail. 
According to the City of Ottawa, it doesn't matter if the work is art or not — if you mark public or private property without consent, you commit a crime.
"When any type of graffiti is placed on public or private property it is considered an act of vandalism and is against the law," the representative added.
How much does graffiti removal cost?
It costs the City of Ottawa a lot of tax payers dollars to remove graffiti from public property. In 2016, 26,000 tags were removed, costing about $1.3 million, according to the city. Then there's the price individual businesses, buildings, and home owners pay to have graffiti removed from their private properties.
But, graffiti isn't just a concern for the City of Ottawa, business owners, and residents. Tagging is also an issue for artists like Ryan Smeeton.
Smeeton paints legally, with approved murals throughout Ottawa and elsewhere in the world.
"You get idiots that will tag on anything. That's something that I have to deal with too," he said. "When I'm working on a mural, I have to get it done quickly before anyone tags it."
In the graffiti world, it is considered disrespectful to tag a piece of art that is better than your own, an issue Smeeton said he has to deal with on a regular basis.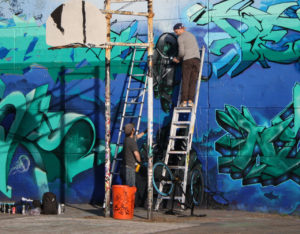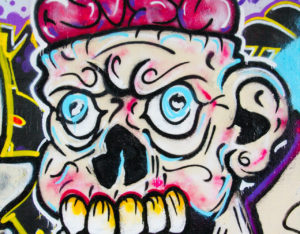 The case for legal street art
Many street artists like Smeeton—who received a Bachelors degree in Fine Arts from the University of Ottawa — are professionals who've been mastering the genre for years. According to Smeeton, he got into painting murals after expanding his art onto larger and larger canvases.
He added that he sees particular value in street art compared to other art forms.
"Bringing art into public space is the most valuable aspect [of street art] in my opinion. Just bringing it out of galleries and into public space," Smeeton said. "Transformation of public space too. Like transforming otherwise grey, drab areas into something interesting."
What's Ottawa doing to help street artists?
According to the city's media relations representative, the City of Ottawa doesn't condemn street art as a whole, despite its bylaws. Instead, like Smeeton, they do not see graffiti tagging as a form of artistic expression. So, in order to promote the kind of legal street art that reflects positive values, Ottawa has started a few street art initiatives.
In 2010, Crime Prevention Ottawa launched the "Paint it Up Program." Funded by the city, the youth engagement outdoor mural program is meant to encourage street art instead of graffiti vandalism. The city has also sponsored and paid artists to paint murals on Colonel By Drive and Queen Elizabeth Drive, as well as both on the underpasses at Laurier Avenue.
There are also three legal street art walls throughout the city. A legal graffiti wall, otherwise known as a "free space," is an area where graffiti is permitted and encouraged, such as the underside of the Dunbar Bridge on Bronson Avenue.
Is the city doing enough?
Ottawa may have a few initiatives to encourage street art and deter graffiti tagging, but Smeeton said he doesn't think it's enough.
He said he blames the city's reluctance to accept the art form on Ottawa's identity as a "grey government town."
But, according to Smeeton, the Ottawa street art scene is starting to grow.
"There are more mural opportunities now than there have been in the past, but there's still a ways to go, in other cities you'll see art on every street corner," he said.
Ottawa might have the reputation of a conservative city, but one thing's for sure, it's streets are slowly starting to become a bit more colorful.
Photo provided by: Olivia Joerges & Rory Clarke