Prism brings Kosmic back to its roots

On one side of the room, Kosmic attendees viewed art installations from architecture and industrial design students. On the other side, a sea of partygoers filled the dancefloor shouting the words to "Stacy's Mom" and "Save a Horse, Ride a Cowboy."
Students from the Azrieli School of Architecture and Urbanism hosted their annual Kosmic party on March 25 in a packed house at Barrymore's music hall. Here, attendees were free to dance the night away under flashing lights and around 13 pieces of student artwork.
The event has been going on annually since the 1970s, and this year's theme was prisms. Past themes include gravity and eclipses.
"We construct this big event that features student work and it's also a good time," said Blake Wallace, one of the team members organizing the event. "As architecture students we don't get to party a whole lot."
"It's something we wait all year for," he added.
According to Wallace, the event was first held in the school of architecture, but was moved "after a few issues." This year's venue is smaller than last year's space in the Lansdowne Horticulture Building.
"Last year's Kosmic was held at a larger venue which . . . really acted as a blank canvas for their team to fully transform," an email from Kosmic's team stated. "This year, we found Barrymore's . . . and saw a lot of potential for our theme. The venue provided a great setup that really allowed our team to focus on installations."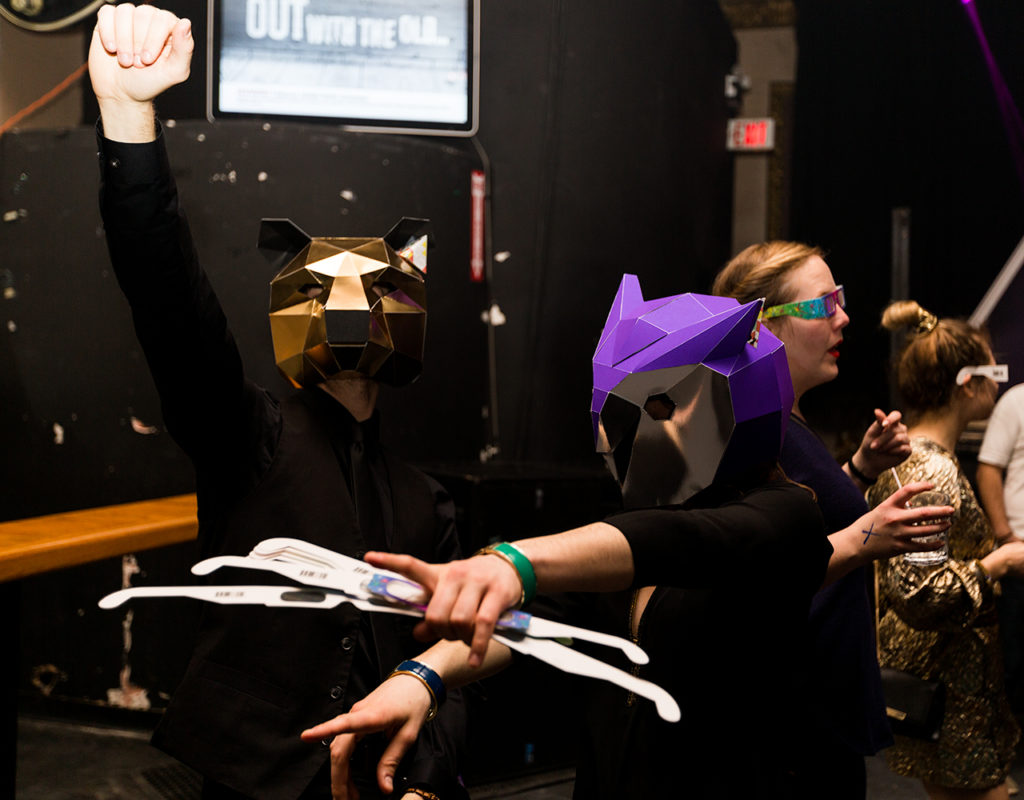 An important part of the team's creative vision was trying to recapture how Kosmic used to be in the 1980s and 90s, Wallace said.
He said the team thought Kosmic had become "repetitive" over the last few years, and wanted to capture the craziness of old Kosmic events.
"The team's vision this year was to revitalize what Kosmic used to be, and really inject absolute pure creativity into the event itself," Wallace added.
Wallace also said the team wanted to capture "the essence of what architecture is."
"It's a lot about absolute pure creativity before we get into the workforce," he said. "It's about embracing everything you can possibly do, pushing the boundaries of what you can build and what you can design and what you can artistically demonstrate through construction."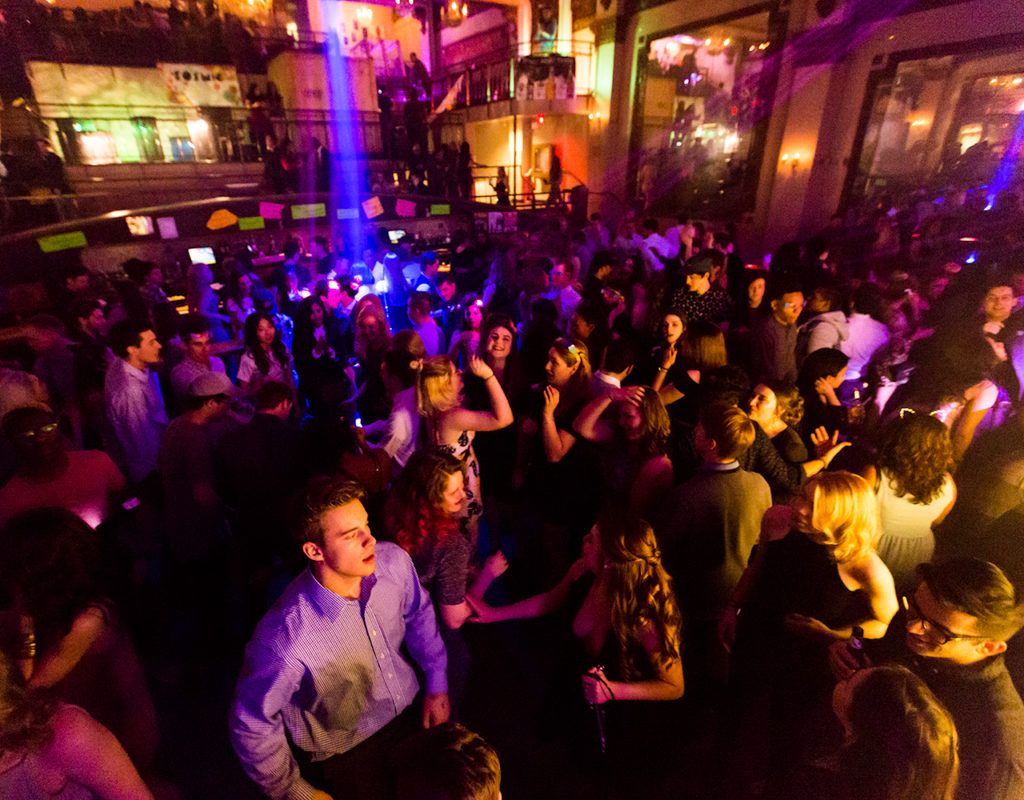 Student installations ranged from "things you can look at, to things you can sit on, to things you can go inside," according to Wallace.
He added that Kosmic was all about the senses.
Jessie Valenti, a first-year architecture student, had an installation with a group of students. It was a length of wire fencing adorned with different photos and sketches.
"We saw the wire in a scrap bin and then we just thought it would be cool to put pictures in it," she said.
Her team came up with the idea after another one "didn't really end up working."
As a newcomer to the architecture program, Valenti said it was a good feeling to have her team's work displayed this year at Kosmic.
"It's nice. We're first years, we don't really know anything yet," she said. "So it's nice to have it here."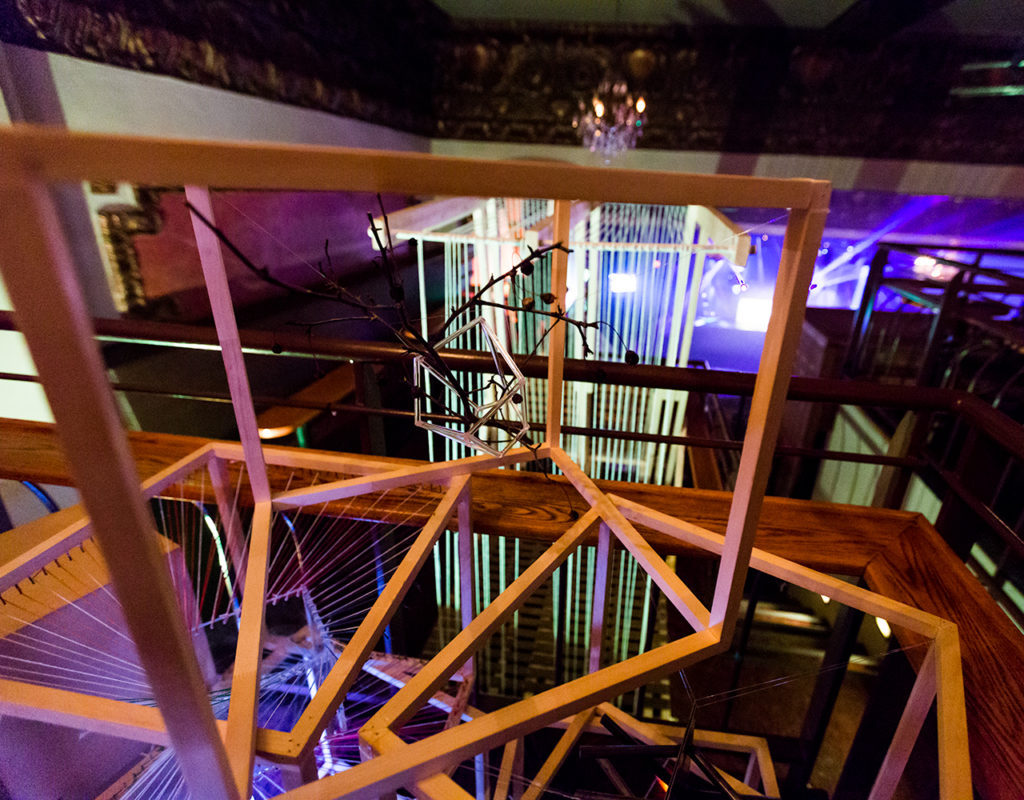 Another installation was built using a crate, garbage bags, and black yarn. The bags lined the walls, ceiling, and floor, and the yarn created walls to guide partygoers along a winding path. Flashing lights reflected off the bags to create a disorienting effect for partcipants.
A 9 foot tall skeletal pyramid composed of triangles was also featured at the event. The creative team behind the installation, Elijah Lopez and Hayden Duench, said they wanted to create something that would photograph nicely within the prism theme.
Mark MacGuigan, a technician with the school of architecture, applauded student installations for their use of light. Students don't get much time to set their work up, and according to MacGuigan light is "a very good way to make things work in a short timeframe."
MacGuigan, who has been to several Kosmics, said this year's version was "one of the better ones [he's] seen."
"Sometimes the venue is a little bit too overwhelming or too big and people get lost, but here everyone is having a really good time," he said. "You can see it."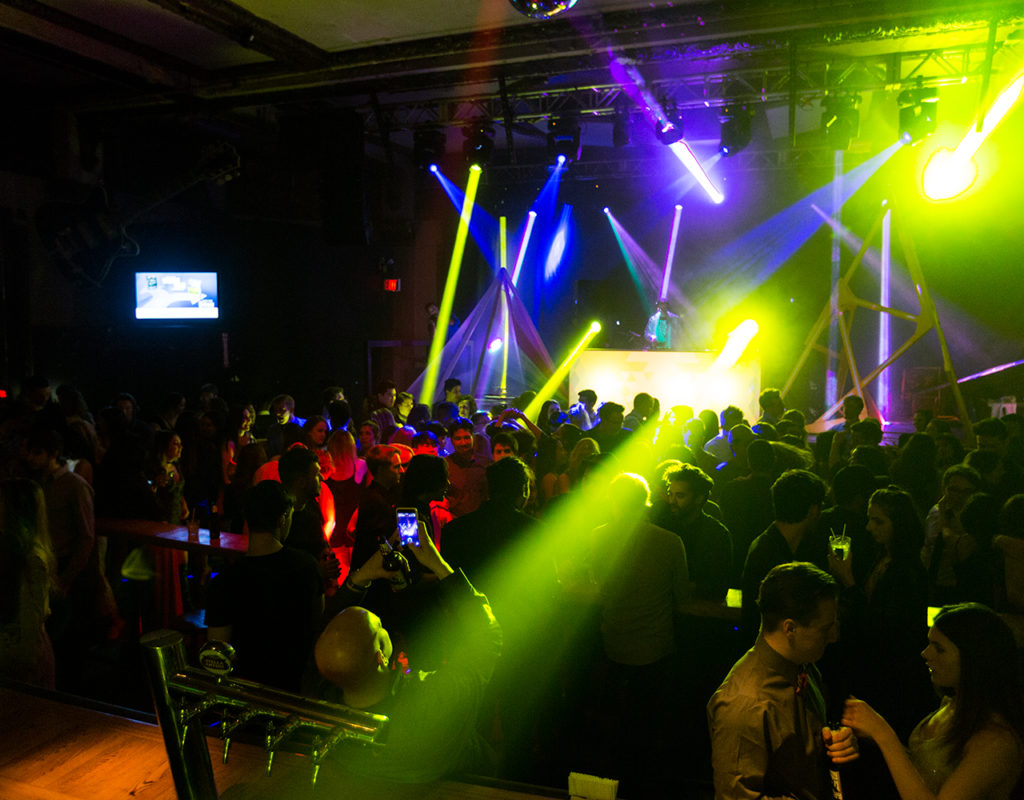 Don Dimanlig, a recent master's graduate in architecture who has attended every Kosmic since 2011, said Kosmic is like an annual reunion for architecture students.
"I love the architecture student body," he said. "This is my family, really."
He also highlighted how the fact that students build their own experiences for Kosmic makes it much more special.
"Partying in a space that you guys customize feels better than going any other ordinary bar," he said.
– Photos by Justin Samanski-Langille