Ejim, Kazami-Keane say they don't regret being Ravens

It was March 15, 2015, and the Carleton Ravens men's basketball team have just won its fifth straight Canadian Interuniversity Sports (CIS) (now U SPORTS) championship.
The victory was in large part from the efforts of Philip and Thomas Scrubb, Victor Raso, and Jean Emmanuel Pierre-Charles.
Although they basked in the lopsided victory over the crosstown rival University of Ottawa (U of O) Gee-Gees, some serious questions lay on the horizon.
Both Scrubb brothers along with Raso were graduating, leaving three large holes in the lineup.
The team still looked to have a lot of depth with sharpshooting guards Connor Wood and Gavin Resch, but lacked a starting point guard.
A greater surprise came in the summer of 2015 when Pierre-Charles, the Ravens 6'8" centre, announced he would be leaving Carleton to join either U of O or the Ryerson Rams—two of the Ravens' biggest rivals.
The answer didn't come at the hands of a key recruit, nor from the development of the Ravens bench players, but came in the form Ryan Ejim, a 6'7" forward who started his career playing for the York Lions, before deciding it wasn't working out.
Ejim's decision to come to Carleton was a slow process that started as a joke from his brother Melvin Ejim, who played under Ravens head coach Dave Smart for team Canada in 2015.
"Back in the summer, he was with Dave [and] Team Canada and he would just hint at me like 'I know you're at York but if you're ever thinking about switching, I'm sure Dave would love to have you'," Ejim said.
The joke soon became serious and he reached out to Carleton about joining the team.
"At the time I didn't think much of it, but things weren't working out well at York so when I decided I was going to leave York, I didn't contact any other schools, I contacted Dave and said 'This is what my brother told me, is it true?'," Ejim said.
He transferred to Carleton and joined the Ravens after Christmas 2015, although he was forced to red shirt, meaning he could only practice with the team due to U SPORTS regulations.
Although he had time to develop, Ejim experienced the usual struggle adapting into the Ravens lineup.
"We had some growing pains, every time you have transfers, they do some things different than how we do them," said Rob Smart, Ravens assistant coach.
Wood said the red shirt season was beneficial for Ejim as no matter what level someone's played, Carleton's training will always take time to get used to.
"He had a bit of time to figure it out, so there's definitely an adjustment because there's no other place like Carleton," Wood said.
The training worked out as Ejim's 5.1 rebounds per game helped the Ravens take number one in OUA rebounds per game in 2016.
But the Ravens were still missing a key floor general to conduct the offence and that came from an even more unlikely place, a transfer from the National Collegiate Athletic Association (NCAA).
Kaza Kajami-Keane, a point guard in Division I with the Illinois State Redbirds, then the Cleveland State Vikings, made the announcement in the summer of 2015 he would be joining the Carleton Ravens.
Kajami-Keane, a Toronto native, had spent several years playing high school basketball in the U.S.
He decided to head back north to play on the Ravens and helped them win their sixth consecutive national championship in 2016.
Although they won the championship, Kajami-Keane said he didn't have the start he would've liked when coming to Carleton.
"It was a gong show to say the least," he said of his first game with the Ravens. "I was all over the place, I didn't really know what I was doing . . . After the game I just went up to Rob [Smart] and was like, 'You've got to help me because I have no idea what's going on.'"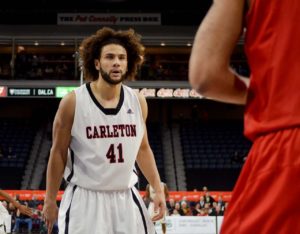 After playing Division I basketball in the U.S., the highest level of amateur basketball, Kajami-Keane said he still wasn't ready for what Dave threw at him on day one.
"Initially it was very hard, it was a lot different structure wise and the amount of training that we do, I feel like I was training hard at other schools, but it was nothing compared to what we do here," Kajami-Keane said. "I remember the first time I came up and I visited and I had to take an ice bath in the hotel."
After all the ice baths, the long practices, and viewings of the game tape, Kajami-Keane finally started to figure out what the coaches wanted from him.
"It was something I really enjoyed because it shows how much effort Dave and the coaches put forward in making us better basketball players," Kajami-Keane said.
Rob said he appreciated the hard work both players put in, as their development was important for the team.
"The two of them have quite a bit of talent so you want to get them up to speed quickly," he said.
Kajami-Keane averaged 14.1 points per game in his first season and 15.1 in his second.  Just under Philip Scrubb's 16.6 in his final season, but Kajami-Keane brought a playmaking ability few in U SPORTS possess, averaging 6.6 assists per game as well as 4.1 rebounds per game, despite only standing at 6'1".
Despite the hard work along the way, the two of them said they don't regret their move.
Kajami-Keane said the moments that stick out to him most have been hanging out with his teammates after practice. He said he likes to keep to himself and doesn't get the company often.
Ejim said he'll never forget winning the 2016 national championship, a feeling that the Ravens play for again on March 12 against the Ryerson Rams, 1 p.m. EST at the Scotiabank Centre in Halifax N.S.
– Photos by Luke Carroll