Bluesfest Day 8: Future and Nelly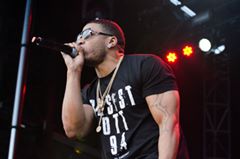 Saturday July 16th marked Day 8 of Bluesfest and included headliners like Future, Nelly and Duran Duran.
With the city buzzing with rumours about surprise performances, it was perfect festival weather with cloudy skies and warm temperatures.
Nayvadius DeMun Wilburn, better known by his stage name Future, was set to perform at 5 p.m. The hip-hop artist's strong connections with Canadian rapper Drake had many saying that Drake would be making an appearance.
This past September, the two released a mixtape called What a Time Be Alive and announced they would be touring together later this summer. Though nothing was confirmed, fans were hopeful that the Toronto native would be sharing the City Stage with Future.
The crowd was anxious to get started and Future being 15 minutes late certainly did not help. Finally the rapper arrived starting off with the song "I Thought it was a Drought". Immediately many fans began rapping the lyrics, fist bumping and dancing along. The rapper performed many of his famous songs like "Purple Reign", "Wicked" and "F*** up some commas".
Clearly, Future had heard about the rumours because he teased the crowd saying that a good friend from Toronto wrote his next song. The crowd went wild thinking it was Drizzy but in actuality Future was talking about his song "Lowlife" with the Weeknd who is also from Toronto.
The moment of truth came with his song "Where ya at" featuring Drake. Many were waiting for the Canadian to come up on stage, however only a recording of the rappers part was played. While some seemed disappointed the majority of the tightly packed crowd did not seem to mind. Future kept the crowd jumping and cheering for the rest of his performance.
Hip-hop artist Nelly was also performing on the Claridge Homes stage a few hours later. His career has spanned nearly two decades so he brought in a crowd of all ages.
It was a big party with Nelly as many were dancing and singing along. He played hits like "Hot in Herre", "Ride Wit Me" and "Country Grammar". He even went as far to pull three fans on stage, serenaded one while another sang Kelly Rowland's part in his song "Dilemma".
One of the biggest headliners of the day was Duran Duran. The 1980s band recently released their 14th studio album. Although founding member Nick Rhodes was not present, they still wooed the crowd with their new jams as well as their classics.
At the same time as Duran Duran was Cashmere Cat. Performing on the Black Sheep stage, the Norwegian musician performs electronic dance music and has been since 2012. He has worked with artist such as Ariana Grande, Wiz Khalifa, Miguel and even produced Wolves by Kanye West. It was Cashmere Cat's opening track Saturday night.
His beats sounded beautiful and gave more of a chill vibe than the usual, aggressive EDM tone. His beat drops were done amazingly well with a great amount of anticipation that had the crowd jumping and cheering in unison. It was a non-stop dance party for the show and the crowd loved every minute.
Overall, the day was success with the weather cooperating and the performances meeting viewer's expectations.