Bluesfest Day 5: Brad Paisley and The Decemberists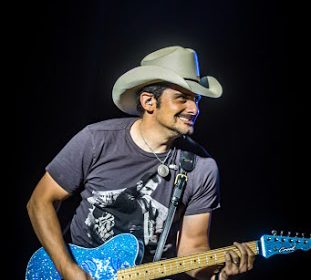 Picking Bluesfest back up after the beginning of the week, Wednesday kicked off like a stallion bucking its rider. Thunderstorms threatened the country night, but luckily the sun came out and cowboys and cowgirls came stomping their boots.
Brad Paisley started as the major headliner for the City Stage late July 13, making those in the crowd swoon with his southern lyrics. Demi Lovato also made a surprise appearance for a song. There were even clips of squirrels water skiing and a caricature video in the style of south park. The crowed stomped their boots and sang along, can it get any more country than that?
Other artists sharing the night with the headliners at Black Sheep Stage and Barney Danson Theater were Canadian indie rock band from Montreal, Half Moon Run and Waterloo-based Craig Cardiff, the wonderful gentleman who graced Carleton University at Roosters with an intimate show back in the winter. Both Canadian performers stole their crowds and got them grooving and singing along.
Brampton born Singer Alessia Cara blew me away with her vocal pipes. That girl had such an amazing stage presence even in the heat, and was belting every note for her fans. This breakout star also gave some lady power pep talks to her female fans. Double high-fives for that talented new artist.
Danielle Allard, our very own Carleton Alumni, rocked the Barney Danson theater to start off the festival. This talented performer's music was so romantic that it had couples dancing in their own little worlds to her lyrics. Her band even pulled off a showcasing of each member's skills, just like in The Foo Fighters Skin and Bones concert DVD. I had the wonderful opportunity of meeting this lady outside the war museum and got to chat. For her current tour, she's keeping up with rocking the body and face paint that appears on her latest album "Chameleon," and said she wanted to keep up its vibe and promotion. She added she's looking to branch out into touring the rest of Canada.
Over at the Claridge Homes stage, The Decemberists rocked. The indie folk rock band had their crowd grooving to their tunes. Definitely worth your while to check out these rocking folks, their incorporation of stand up base and accordion will blow your socks off and get your body swaying.
Carlo, the far-out surf band from Toronto, played the Black Sheep stage with an instrumental performance. Having checked these guys out in Toronto a year ago with a friend, it was exciting to see them again. Their swinging grooves had the crowd bouncing back and forth. If you're a person who loves to dance, this group is for you.
As for the XXYYXX, I walked to the crowd, was greeted by a haze of smoke in the air and left. The jamming crowd were definitely enjoying themselves if you catch my vibe.
Away from the Bluesfest Venue, I got to experience the super groovy Conor Gains and The Rambling Moon. This merry troop, consisting of Conor Gains, Miles Davis, Drew Austin, and Kimberly Manning, were gracing the Rainbow Lounge on their way to Mont Tremblant's Bluesfest earlier last week, preforming at the Montreal Festival de Jazz for another wonderful year in a row. Their sets had the bar grooving to their sweet rocking bluesy tunes. If you want to hear a voice filled with soul, absolutely see these grounded individuals. Who knows, you just might become one of their "Good Time Buddies."