Carleton grad students beat the clock during three-minute thesis competition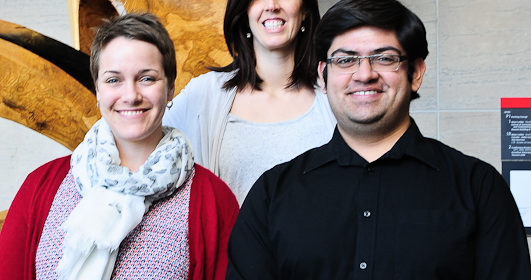 Three Carleton graduate students won awards for their research at the annual Three Minute Thesis (3MT) competition March 3.
The competition gave graduate students an opportunity to present key concepts of their research to judges and audience members, challenging them to do it in three minutes or less.
This year, 28 students registered, according to the competition's website. Each presentation was judged based on the communication, comprehension, and engagement of the participant.
Ann Morneau, a masters student from the Women's and Gender Studies department, won first place with her presentation "Knitting Takes Balls." Morneau's research looked at how men who practice knitting, a stereotypically feminine activity, negotiate their masculinity.
She said her research concluded the concept of masculinity is changing because of a decline in homohysteria and homophobia in modern society.
Morneau said winning first place came as a surprise to her and she was proud of her work.
"Honestly, I didn't expect to win at all," she said. "I am so happy that I was able to represent my department and show that Women's and Gender Studies research allows for some pretty cool stuff to be studied."
In addition to winning the People's Choice Award, Morneau will get a chance to compete at the provincial 3MT competition at Western University on April 23.
"I'm honoured and honestly hope I can represent Carleton well. I'm also really excited to have a chance to talk about my research at the provincial level," Morneau said.
Second-place award winner Sahil Dhawan did a presentation titled "Biofiltration – A Sustainable Water Treatment Technology." His research focused on improving bio-filtration by reducing the use of chemicals in water treatment.
Dhawan said he plans to expand his study "to improve bio-filter performance in a cold temperature setting," adding this would benefit Canadian communities where temperatures are often low.
Dhawan said participating in this event allowed him to practice concisely communicating his ideas.
"This is a skill everyone needs to possess in today's world and I'm glad I got the opportunity to learn it."
The third award-winning presentation was "Cubicles for Artists" by Janna Klostermann, a masters student in the Applied Linguistics and Discourse Studies program.
Klostermann said her friend inspired her to begin this research after complaining about the amount of writing she had to do as a visual artist. After interviewing several artists and curators, Klostermann discovered there was great integration of language in the field of art.
"I was surprised to see how language often trumps art," she said.
Klostermann said her experience at this competition encouraged her to continue her analysis on the subject.
"I enjoyed taking the stage in the 3MT. It's been encouraging to see that the ways I am thinking and the questions I am asking resonate with others," she said.