A question of defederation: The CFS and Carleton

This year, a Carleton University Students' Association (CUSA) committee recommended students vote on whether to stay a member of the Canadian Federation of Students (CFS) or leave.
The vote won't happen this year as no referendum question was put forward, but the push to make a decision has been mounting.
A history of membership
If students decide to no longer pay into the CFS, it will be the end of a 34 year partnership, which started at Carleton in October 1981.
The original minutes were taken on a typewriter, and when the Charlatan covered the first general meeting, reporters weren't using computers and recorders to take notes.
During the six day conference at Carleton, two national student union groups merged to form the CFS. CUSA became local 1 of the new union. The evening after the CFS was formed to "thunderous applause," delegates met for a social in Oliver's Pub and saw a show put on by Sock 'n' Buskin.
Student politics have always been a lot like national politics. There are groups of die-hard partisans on the right and left warring for power, moderates, and wonks trying to make sense of it, and—perhaps in majority—a large group of apathetic voters who would rather go about their four years without thinking about shifts in power.
During the 34 years of the CFS, many of Canada's post-secondary schools have joined on to the cause, disaffiliated, and later returned. The organization has always been a hotbed of political debate arguing over its focus and role in politics.
Carleton's position
In recent years, the feud has spilled onto Carleton's campus. In 2009, CUSA members started a referendum process to leave the federation, but the attempt was rejected by the CFS. In 2012, CUSA service centres were told to remove CFS campaign materials.
Undergraduate students give approximately $15 in levies for the CFS and CFS-Ontario (CFS-O) a year, but CUSA executives withheld this levy in 2013 because they said the CFS has not provided it with a "statement of dues."
Most of the historical divisions between the CFS and its members have been over two issues: the belief that independent student unions are a better use of money than the CFS, and disagreements on their lack of focus on tuition costs in some of the organization's campaigns.
This year, CUSA formed a committee which was headed by science councillor John Mesman. The committee spent months analyzing the CFS. Their conclusion, summarized in a 17-page document, is CUSA could continue to successfully operate without being a part of the CFS and eventually a referendum should be proposed to students.
"Our report found that the CFS is a useful organization but we kind of came to the conclusion that at Carleton, the CFS is no longer relevant and CUSA has been able to operate without being a member," Mesman said.
Mesman said he can't express personal opinions on leaving the organization because of his role as chair of the committee.
Roy Sengupta, a humanities councillor critical of the CFS, was more forthcoming.
"They remain ineffective at implementing their objective. They remain unfocused in terms of their mandate for lowering tuition, when in reality they advocate for all sorts of fringe issues like Israel-Palestine and what have you, that distracts from the mandate for lowering tuition," Sengupta said. "They don't put enough emphasis on focused lobbying of elected officials, and continue to prefer the protests and sit-ins."
Adam Carroll, a CUSA arts and social sciences representative, said the Carleton University Students' Action Movement uses CFS materials.
"These materials were of absolute value," Carroll said. The materials are currently free as CUSA is a member of the CFS, he said. According to Carroll, if the student association defederates, the action movement would have to pay instead.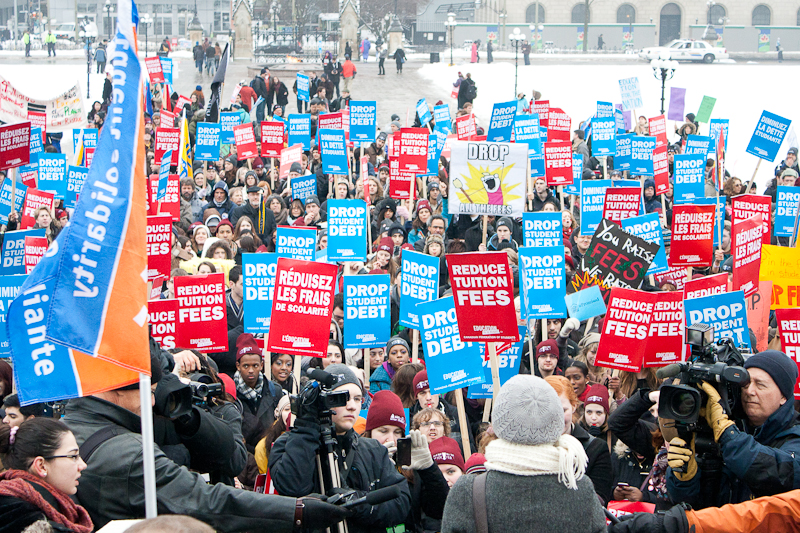 The CUSA and CFS relation
Anna Goldfinch, CFS-O's national executive representative, and CFS national deputy chairperson Bilan Arte, said they presented to the CUSA committee for four hours.
"It was really great, we were able to answer every question," Goldfinch said. "We were happy to see in the report that there was a lot of great stuff about the federation talking about the fantastic work that we do, but then we were a little bit confused to see the recommendation at the end, which was a negative one."
The report breaks down many facets of the relationship between CUSA and the CFS, including all of the federation's campaigns on tuition, sexual assault awareness, copyright, and discount cards. In most cases the committee decided CUSA, being a large student union with considerable funding, could represent itself.
Goldfinch said the idea behind CUSA and the CFS is similar.
"You can imagine, without CUSA, who would represent students to the administration?" said Goldfinch.
"Just like administrations and governments work together at higher levels and talk about what's going on, it's important that students also have the opportunity to get together," Arte added.
The decision to remain with the CFS will not be a quick one.
Before holding a referendum, a petition will need to be circulated and sent to the organization ahead of time. The CFS has a long history of requiring strict adherence to its complex disaffiliation bylaws.
"If anything should come out of this, it's just that students should have the opportunity to choose, and this is a great avenue for that, regardless of the outcome," Mesman said.