Studio Café ends with owner's solo show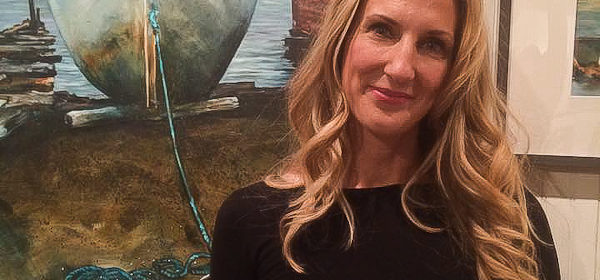 Crystal Beshara, local artist and owner of Studio Café, unveiled her solo show "Life on the Rock" Nov. 6. Soon after the pieces come off the walls, though, as the gallery-coffee shop hybrid will close its doors.
Beshara, 39, opened Studio Café in Hitonburg in May 2014.
"The concept behind it was to create a community space for artists, and regular folks who were just looking for a sanctuary to come and hang out. Not the loud, buzzy, clanky space of a traditional coffee shop, but more of a coffee house experience," she said. "Also creating a gallery where the space felt accessible, not sterile and intimidating like the typical gallery space."
Beshara said the concept will likely move online in the future, keeping people connected.
"I developed a really strong following after a short period of time, a good dedicated support system of people who love the concept. Unfortunately the reality of the space was not viable at this time at this scale. So I think I might end up scaling back a little bit," she said.
In the past, other artists have covered the walls with their collections. This is Beshara's first solo show at the café.
"It's bittersweet for sure. It's nice that it's my show. It makes perfect sense. I didn't time it as such but that's the way it has ended up," she said.
"Life on the Rock" is a collection of oil and water colour paintings based on a trip to Newfoundland and Labrador that Beshara took last fall.
In September 2013, with a group of 14 art students, Beshara travelled to Newfoundland and Labrador for the first time. While she was there she taught, found inspiration, and snapped thousands of photographs.
"I was just struck by the power of Newfoundland. Even flying in," she said. "We flew in mid-afternoon and it was clear, clear, clear and you could see the rock. There aren't really any words to describe it."
Beshara said she returned to Ottawa with more than 3,000 photographs. From those, she created a collection of 15 pieces.
"It's hard not to do something with all of that eye candy when you get back. You want to keep reliving it. And painting for me is a way to relive an experience and be reminded about what was resonating with me in the first place."
For Beshara, the collection is all about transporting people to that place.
"Really, I want people to be sort of carried away and feel inspired and feel like they can look at a piece and go somewhere," she said.
Lynn Andrews attended the east coast trip and said the collection takes her back.
"I think it's really reflective of the way it was there. The sky changes constantly. The view around you changes every hour and I think this captures that," she said. "It's really beautiful."
Andrews' sister, Margaret Lee, said she has been on multiple painting trips with Beshara.
"[Beshara]'s an amazing teacher. She's been teaching me for many years and she's fantastic," Lee said.
As a long-time student of Beshara's, Lee said she is "very sad" the studio is closing.
"I'm really sorry that she has to move out from here. She gave it her best shot and you know it didn't work out but I'll be back with her in her classes, in her studio at her home," Lee said.
The exhibit runs until Nov. 25, but Beshara said she isn't focusing on the finale.
"It's not the right vibe to be thinking about the end at the start of a show, that's for sure," she said.