Men's Style Blog: Summer sartorial survival guide

Summertime is when a man has to look good. It's the time of year memories are made.
Here's a guide to getting your look right this year. The top trends for 2014 are patterns, fitted clothes, and classic styles. The key is buy quality pieces this year that will last you until the weather gets warm again.
Shorts
The long and short of it is there are a lot of guys who have no idea what to do with a pair of shorts. It seems men either wear shorts that are too baggy or too long.
The right pair of shorts ends about an inch above the knee, has no cargo pockets, and leaves about three inches of room around your thigh. Think of a pair of khakis lopped off about halfway down your leg. That is the style we are aiming for.
A lot of guys cringe at the thought of shorter shorts. What they do not realize is above-the-knee length shorts make legs look longer, which means you in turn will appear taller.
You only need three pairs of shorts to make it through the summer months. Find a style that fits and buy one of each in khaki, navy blue, and a brighter colour or pattern.
Shirts 
There are three shirts a man should wear in the heat: a polo shirt, a short sleeve button up, and a t-shirt.
The overall style for shirts this year is fitted, patterned or colour-blocked, and cut just above the belt. If you are restocking your shirt collection start with neutrals like grey, navy blue, or black. Then graduate to red, yellow, or green.
A polo shirt should not look like something you wear on the golf course. The collar must lie flat on your chest and shoulders. The sleeves should end in the middle of your bicep. Leave the buttons undone or button them all the way up, your call. The key here is fit. Look for shirts with high armholes, about an inch of extra fabric around your midsection, and a close fit in the chest.
The short sleeve button up is tricky. The sleeves should end in the middle of your bicep, but avoid sleeves as wide as wings. I like button down collars because you can machine-wash them without worrying if the collars will get rumpled. Also, we want to avoid the image of your dad on vacation. Keep the shirt fabric close to your body. You will look simultaneously more muscular and slim.
T-shirts should fit like a polo shirt. A word about logos: keep them smaller than your fist. Save the comic book heroes, sports logos, and cheeky phrases for bedtime.
Shoes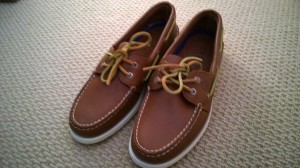 Two words: boat shoes. Buy a pair of leather boat shoes and wear them without socks. If you are looking to add to your collection, a pair of canvas or brightly coloured boat shoes is a nice way to spice up your leather ones.
Also, a pair of brown oxfords will get you anywhere socks are necessary this summer. They go great with shorts, khakis, and chinos.
Flip-flops are for the beach, not walking around town. Man sandals are not a good look for anybody.
Sunglasses, etc.
Wayfarers are classic summer frames. You can buy the original or grab an imitation pair in a similar shape. Make sure your sunglasses fit your face. The bottom of the frame should stop at the top of your cheeks, and the arms should stay tight to your head. If you nod your head and the glasses move, your frames are too big.
Also, get a watch with a canvas strap. All of the big name brands make canvas strap watches, or you can take your leather strapped watch into a store and ask for a canvas band to switch it up for summer. Canvas or cloth bands will keep your wrists cool and will not get sticky in the humidity.
Finally, a word about hats. Stay away from the flat brims. It is not 2009. Buy a good cloth baseball cap with your favourite team on the front. Wear it with the bill forward.
Trust me. Her dad will appreciate it.