Thirteen years of good lit for In/Words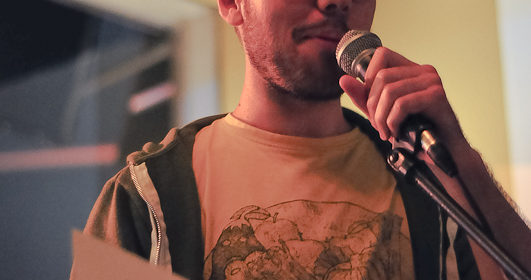 In/Words Magazine celebrated its 13th year in publication at Pressed Café Sept. 13, bringing a crowd of those who most cherish the written word to a cozy and inspiring environment.
In/Words Magazine & Press was founded in 2001 by professor Collett Tracey and has grown into a unique and thought-provoking production. Run mainly by Carleton University students and graduates, the magazine lets Carleton students get their work out there and circulating through the community.
"Community is an absolute necessity for all writers—that they support and protect us and believe in the value of what we're doing," Tracey said.
To celebrate its success, In/Words held an intimate performing arts showcase. The event featured artists of varied artistic backgrounds, including poets and spoken-word artists. The performers at the event were poets Selina Boan, JM Francheteau and Brad Morden, musician Suzy Pankhurst, poet and spoken-word artist Brandon Wint, and FEVERS, an Ottawa-based band who recently played Ottawa's Bluesfest.
The culmination of beautiful sounds and calming words made for a relaxing and comfortable environment for the 40 or so people who showed up to support the magazine. All proceeds from the event went directly to the performing artists.
The editor of In/Words Magazine, Maria Demare, said she was pleased with how the evening played out.
"We really wanted to integrate our city between different forms of artistic production tonight and I am so happy with how it went," she said. "I felt like it was really intimate, really personal, and it really showcased the diversity that this community represents."
A highlight of the evening was the soft spoken-word from Wint, an Ottawa-based writer and poet. His poetry is often presented in a gentle tone but has powerful meaning, often relating to love.
"My poems are preoccupied with love because I am," Wint said. "Once I have learned how to love well, I have learned as much as I need to learn about how to be on this planet or about how to be human. Love is inherent to existence as a human being,"
Also headlining the event was FEVERS, an electro-indie-rock band from Ottawa.
Band members Sarah Bradley, Martin Charbonneau and Colin MacDougall performed an acoustic version of their usual upbeat and "dancey" tunes and were very well accepted by the audience. Having performed at Bluesfest the past two years, FEVERS was excited about performing at a smaller venue.
"It's about sitting down with the people and looking to get a little bit more than just an experience with the lights and sounds that you get at a big show," Charbonneau said.
The audience was especially enthusiastic about the talent FEVERS brought to the stage. At one point during the band's set, a passerby banged on the window behind the stage and gave a thumbs up, receiving loud applause from those inside.
At the end of the night, both organizers and attendees left the café feeling satisfied and at peace. Demare couldn't be seen without a wide grin on her face.
"I feel really happy that we are blessed to have all of the artists that we had performing here tonight and that there were so many people who are both a part of our community and news faces here tonight to support the arts community within Ottawa," she said.