Facebook post points to CUSA contingency fund for possible CFS litigation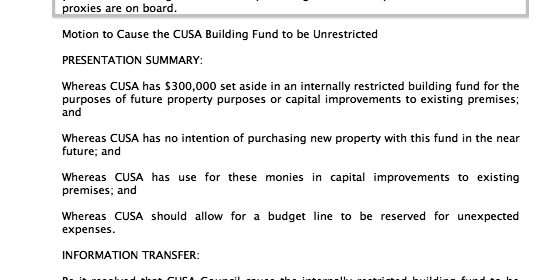 A leaked screenshot from a Facebook group named "A Better Carleton" shows that Carleton University Students' Association (CUSA) vice-president (finance) Michael De Luca intended to secure CUSA's contingency fund for possible lawsuits with the Canadian Federation of Students (CFS).
The screenshot shows a post De Luca made on July 8, 2012 regarding a motion that would secure a $100,000 CUSA contingency fund. The motion suggested the contingency fund was for unexpected expenses the association may incur.
Above the motion, De Luca wrote, "The 'contingency fund' is being set aside for a good purpose so I hope we have your support with minimal questions . . . To be honest, it is year one of a saving account for any CFS litigation that may arise."
The motion was passed with a vote of 17 in favour and 10 opposed during a CUSA meeting July 31, 2012.
De Luca said the fund will not be used for CFS litigation and will be secured at the end of the school year, adding that he sees no issue in the contingency fund being used for that purpose.
"If you're spending $100,000 from a contingency fund, it means that we'll save Carleton students $500,000 a year by leaving the CFS," he said.
In September, De Luca told the Charlatan that CUSA would not try to defederate from the CFS, as that was not an issue A Better Carleton campaigned on.
However, he now says, "we've always wanted defederation—it was just a question of whether or not we would do it this year."
De Luca is currently running for a seat on Carleton's Board of Governors as an undergraduate representative.
The person that provided the screenshot, who wanted to remain anonymous, said De Luca's previous implications that A Better Carleton would not seek defederation are untrue.
"When we were all elected last year, it was under the impression we disliked and we would work to defederate from the CFS," the source said.
De Luca said the "A Better Carleton" Facebook group was a group of "mostly" friends and he made the post in question "in a non-serious manner."
While De Luca said he was joking with people he had personal relationships with, the source said that De Luca has strayed from the path A Better Carleton was once working toward.
"He has become a liability to the good of Carleton University Students' Association," they said.
"I mean I dislike him, but this isn't about my personal dislike for him, it's about the fact that his actions are not what any responsible executive's should be."