RRRA 'Assassin' game promotes gun violence, critics say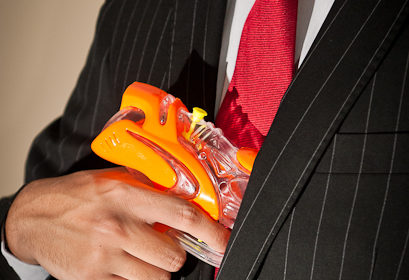 A game organized for residence students is facing criticism for allegedly promoting gun violence and rape culture.
The game, Assassin, was organized by the Rideau River Residence Association (RRRA) and is a tag-based activity that will start on Nov. 1.
As described in the rules on its Facebook page, the students participating first pick names out of a hat. The objective of the game is for students to find the person whose name they've picked and shoot him or her with a water gun provided by RRRA.
Once successful in finding and shooting their assigned person, participants move on to look for whoever their "victim" was meant to "assassinate."
Carleton University Students' Association vice-president (finance) Michael De Luca said there might be negative backlash to the game.
De Luca said he spoke out against the event "as an individual, not a CUSA executive," because it "promotes gun violence and rape culture on our campus."
"The act of stalking a fellow residence student, eventually finding them and then shooting them with a gun, be it real or fake, is deeply concerning," De Luca said. "It is  . . . not okay, and should be cancelled."
Human rights student and activist Arun Smith echoed these sentiments.
"This has the potential to reinforce gun culture and trivialize gun violence," he said.
Smith is concerned with what he calls the "stalking narrative" of the game.
"Even though there's likely to be consent between all parties involved, on a campus where there have been so many sexual assaults in recent years, glorifying predator-prey narratives really just does a massive disservice to the people who are living in a daily game that is predator-prey," Smith said.
However, Smith believes that the answer is not to cancel the game, but to think about how to make the game "as inclusive as possible."
"When we're building a community, we also have to make sure we're not tearing it down," he said.
RRRA vice-president (programming) Rawan Abujoub says that the game's critics are making "a mountain out of a molehill."
Abujoub maintains that the game is harmless fun, and will continue as planned.
"While we're always appreciative of constructive criticism from students, we don't feel that an innocent game like Assassin promotes gun violence on campus," Abujoub said.
"These are young adults, and the idea that they aren't responsible enough to be trusted with a squirt gun is an insult to all of them."
Abujoub said that Assassin is a popular game, commonly played in high schools and universities without incident, and points out that those levelling criticism are not residence students.
"Not a single residence student has complained about this event," she said. "The RRRA executive has reduced its benefits this year in the interest of providing more events for residence students. Those students are our priority . . . residence students have expressed to us their excitement for this event, and we look forward to holding it."