Politics: Taking careful aim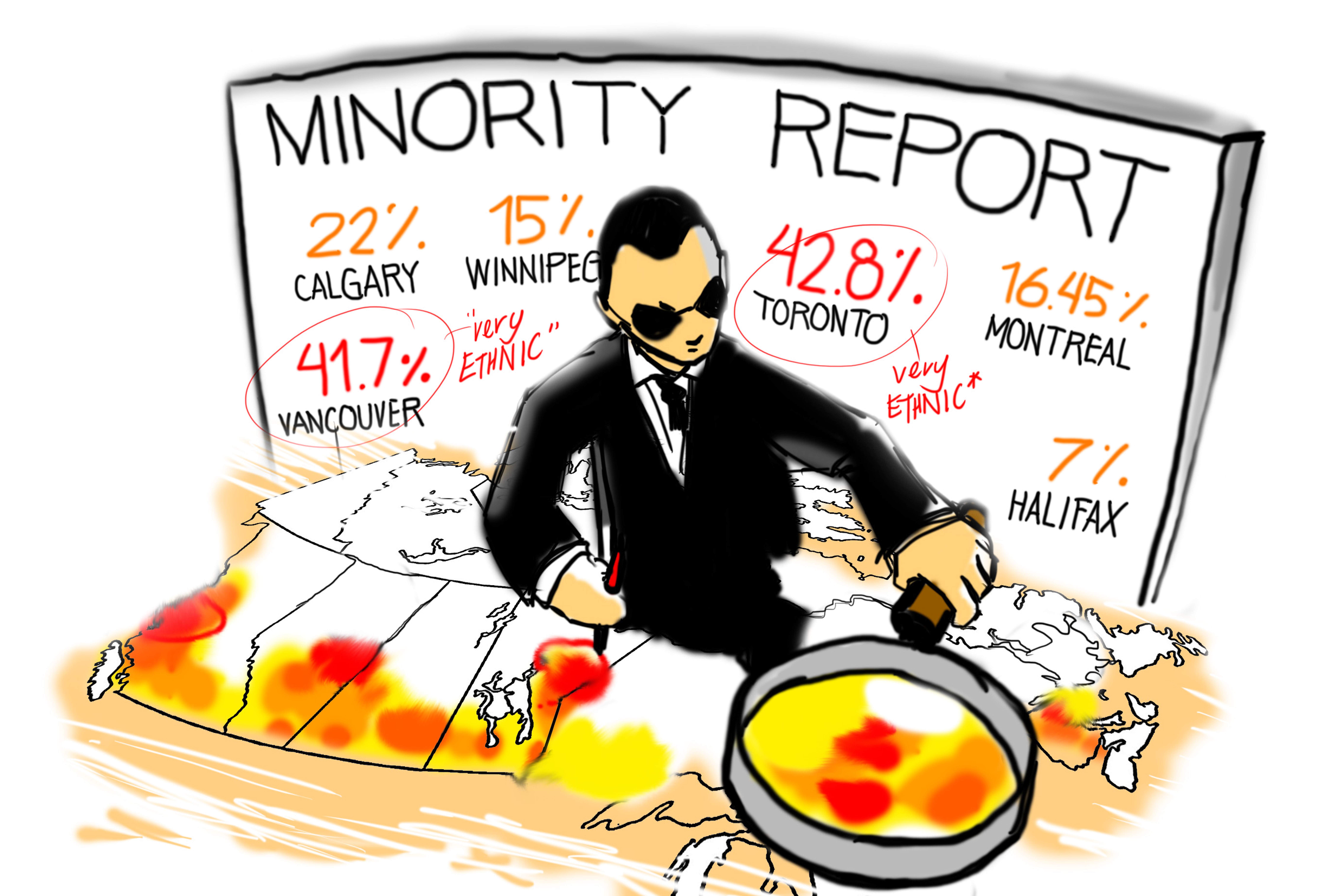 When election time comes around, politicians divide Canadian voters into blocs: the seniors' vote, the youth vote, the women's vote. But with Statistics Canada projecting a 10 per cent increase in foreign-born Canadians by 2031, one vote has become increasingly important: the ethnic vote.
Past elections have seen the Liberals dominating these communities in the polls, but the loyalty of the ethnic vote is waning.
In the last federal election, the Conservatives won 31 per cent of the visible minority vote, while the Liberals were down to 23 per cent, according to an Ipsos Reid exit poll.
"In the last six to eight years, a significant switch of immigrants are voting with their value system and this lines up with conservative party [politics]," says Rick Dykstra, Parliamentary secretary to the Department of Citizenship and Immigration.
Parties use certain tactics, like getting in touch with community leaders and showing up at cultural events to build connections with communities, says Linda Cardinal, a political studies professor at the University of Ottawa. Communities find it "prestigious" when politicians attend their events, leading members to form alliances with the different parties, she says.

Tiring of old tactics
Liberal multiculturalism critic Jim Karygiannis believes this strategy is losing its effectiveness.
"You can go to ethnic festivals and say a couple of words in the ethnic language and make people feel good and stuff, [but] it doesn't work anymore," says Karygiannis.
For Ahmed Hussen, president of the Canadian Somali Congress, a politician making him or herself available is only the first step. He says that it's up to the community to make sure the issues important to them are heard.
"Getting a picture with an MP is not what your community expects from you, they want you to actually address these issues and educate and engage these politicians . . . if the politician believes that all you're interested in is a picture and showing up, they're not going to go the extra mile and say 'What are your issues?' They'll just smile and leave," says Hussen.
Vulnerabilities of the ethnic vote
This is a problem for Wahida Valiante, former president of the Canadian Islamic Congress.
"For Muslims, we're just numbers; we're just the ethnic vote. We get nothing in return," says Valiante.  As an example, she says Islamaphobia is still a major issue for Canadian Muslims and the government isn't doing enough to combat this.
Valiante says it's her job to keep the community engaged and educated so its members can ask politicians the hard questions, and she hopes that communities come up with issues themselves and communicate them to politicians.
Valiante says she believes the reason the Canadian Muslim community isn't as effective in having such issues heard is because it lacks political maturity. She says many Muslim immigrants come from countries with dictatorships. Since they may not be as exposed to fair elections, that explains why many members of the Muslim community aren't as informed as other ethnic groups on the electoral process.
She would like to see a different scenario. "A politician shows up and he says nice things and he puts a little thing on or covers his head or says salaam . . . we shouldn't fall all over the place and say, 'Wow what a leader' but we [should] say, 'What exactly is your platform?'"
"Ethnic" issues
Dykstra says the Conservative engagement strategy explains why they have been successful in gaining support from these communities and why the Liberals are faltering.
"We believe that immigrants who come to this country have a role to play in terms of leadership," says Dykstra. He says Conservatives are about more than getting the vote; they want to work with communities to get their issues heard because they recognize how these communities contribute to Canadian society.
But Cardinal says the Conservative tactic doesn't necessarily tackle community issues. Instead, they present themselves based on values that may resonate within ethnic communities.
Immigrants are increasingly coming from conservative countries like Pakistan and Malaysia, and in response, the Conservatives have placed stronger emphasis on family values. They believe this is something uniformly "ethnic," says Cardinal. She argues this is where stereotyping comes in — something that is ineffective when trying to tackle real community issues.
Whether the strategy of "micro-targeting" minorities is best for ethnic communities remains to be seen, but it seemed to work for the Conservatives in the last election.
Still, Hussen said it was important for politicians to recognize that so-called "ethnic" issues are really Canadian issues. Simply trying to appeal to minorities may not be the answer.
But like many issues, family values aren't limited to ethnic groups.
For example, the rights and freedoms guaranteed by the Charter are important to all Canadians, no matter their background.
Whether the strategy of "micro-targeting" minorities is best for ethnic communities remains to be seen. The hope is that in time politicians will divide people into blocs based on values rather than ethnicity, gender and age. Until then, people like Valiante will try to ensure that communities work to address issues that are important to them, and make sure politicians do the same.
– Graphic by: Don Dimanlig